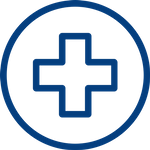 For COVID-19 positive patients, the Wellness Clinic will administer monoclonal antibodies which have been proven to help the body fight off the infection. In addition, research suggests these antibodies lower the amount of the virus in a person's body, meaning those infected will have milder symptoms and help prevent hospitalization and even death.
"The effects of COVID-19 can be severe and these injections can really help in getting patients back to their day to day life," Jones said. "All of us at The Medicine Shoppe Pharmacy believe that in this 'new world' we live in with COVID-19, it's important to do everything we can as a community to help everyone feel better and heal."
Antibody therapy is given by an injection when it is used to treat COVID-19. People eligible to receive antibody therapy to prevent COVID-19 include those who:
-are not fully vaccinated;
-have medical conditions that may not give them full protection from the COVID-19 vaccine.
This includes people who are:
-on chemotherapy or kidney dialysis
-have organ transplants
-on certain medications